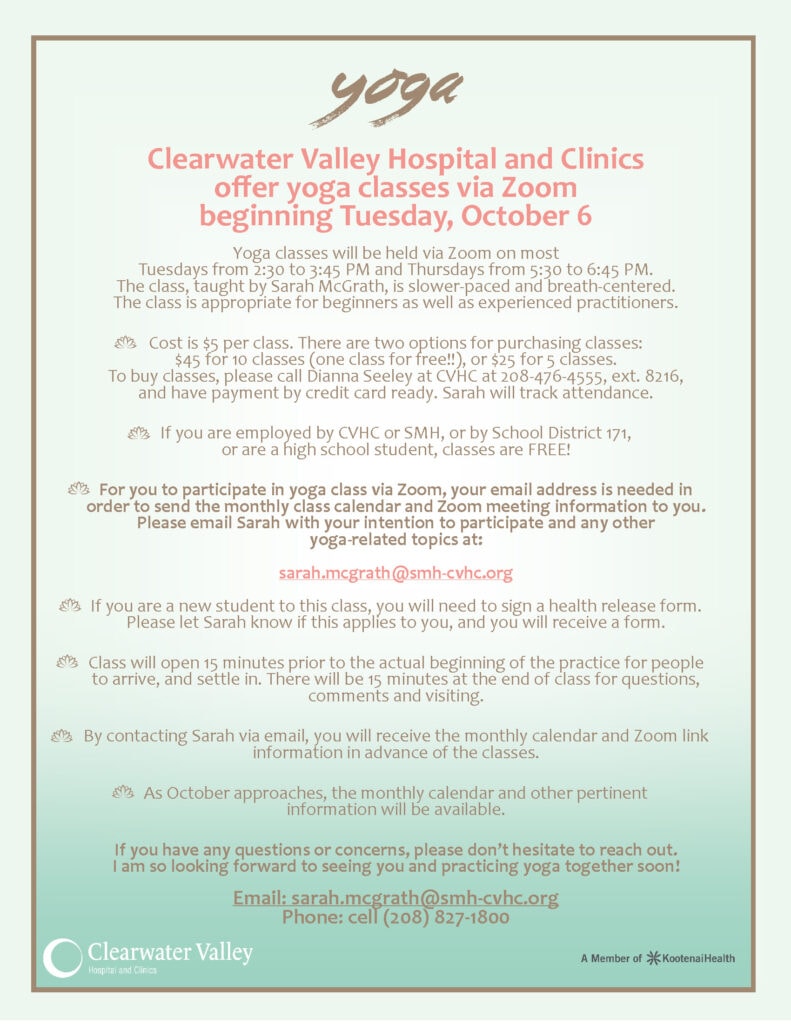 Clearwater Valley Hospital and Clinics offer yoga classes via Zoom beginning Tuesday, October 6
Yoga classes will be held via Zoom on most Tuesdays from 2:30 to 3:45 PM and Thursdays from 5:30 to 6:45 PM. The class, taught by Sarah McGrath, is slower-paced and breath-centered.
The class is appropriate for beginners as well as experienced practitioners. Cost is $5 per class. There are two options for purchasing classes: $45 for 10 classes (one class for free!!), or $25 for 5 classes.
To buy classes, please call Dianna Seeley at CVHC at 208-476-4555, ext. 8216, and have payment by credit card ready. Sarah will track attendance. If you are employed by CVHC or SMH, or by School District 171, or are a high school student, classes are FREE!
For you to participate in yoga class via Zoom, your email address is needed in order to send the monthly class calendar and Zoom meeting information to you. Please email Sarah with your intention to participate and any other yoga-related topics at: sarah.mcgrath@smh-cvhc.org.
If you are a new student to this class, you will need to sign a health release form. Please let Sarah know if this applies to you, and you will receive a form. Class will open 15 minutes prior to the actual beginning of the practice for people to arrive, and settle in. There will be 15 minutes at the end of class for questions, comments and visiting.
By contacting Sarah via email, you will receive the monthly calendar and Zoom link information in advance of the classes.
As October approaches, the monthly calendar and other pertinent information will be available.
If you have any questions or concerns, please don't hesitate to reach out. I am so looking forward to seeing you and practicing yoga together soon!
Email: sarah.mcgrath@smh-cvhc.org
Phone: cell (208) 827-1800