At St. Mary's Health and Clearwater Valley Health our goal is not to replace the in-clinic visit, but to enhance and add to your care options. Sometimes travel to a clinic is not possible because of the weather or your own health conditions; other times, you may have family members who want to join your visit but cannot physically travel to the clinic due to work, weather, distance, etc.   Our telehealth appointments are performed by the same providers you have grown to know and trust.  It is a modern-day version of the "house-call", bringing health care directly to you.
How does it work?
When you call the clinic to schedule your appointment, simply ask the scheduler for a Telehealth visit.
You will receive a phone call a few days before your appointment from the Telehealth Coordinator to register you and email/text you a link to connect with your provider.
Please check with your insurance carrier to make sure they will cover this type of visit and if any co-pays would be due.
This visit does take the place of a normal in-clinic visit and we will bill your insurance company for the visit.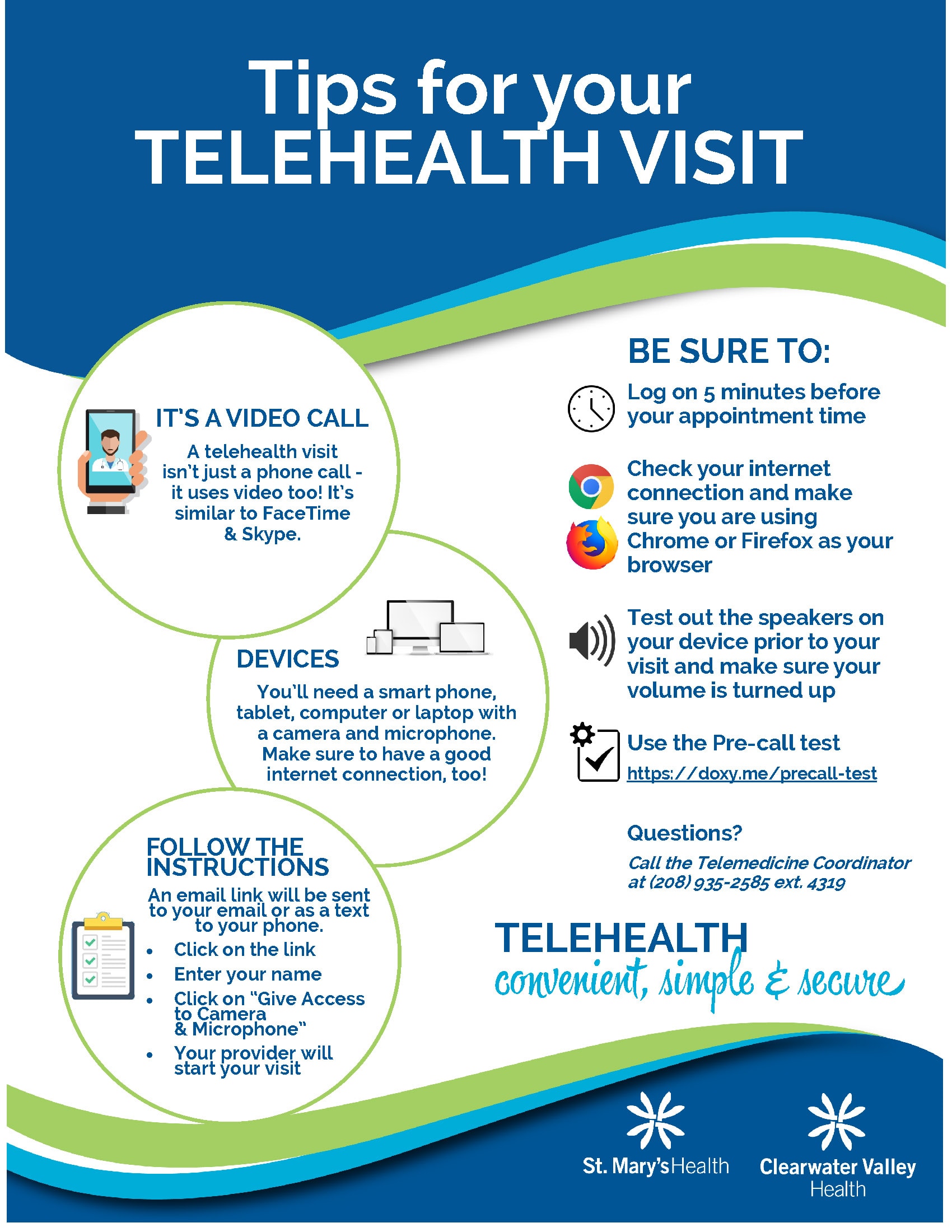 What is appropriate for a Telehealth visit?
These are a few examples of what is appropriate for telehealth.
Non-Life-Threatening Cold and Flu Symptoms
Follow Up Visits
Medication Checks
Medicare Annual Wellness Visits
Chronic Care Management
Discuss Test Results
Lifestyle Coaching
Smoking Cessation
Education/Consultations
Counseling- Depression/Anxiety
Diabetic Education
Nutrition Consult
Parenting Advice/Guidance
This service allows you to click a link from our website and access a virtual front-desk. The telehealth coordinator will be able to schedule same-day appointments in most cases. This link should not be used for any condition that is life-threatening. If you are experiencing an emergency that is causing immediate danger to your life/health we ask that you go to the nearest emergency room.