Congratulations to St.Mary's Health & Clearwater Valley Health's Shari Kuther!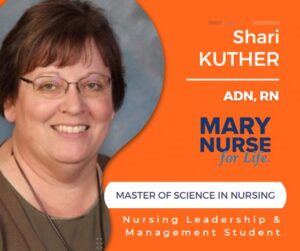 St. Mary's Health & Clearwater Valley Health is so proud of our own Shari Kuther! For over 35 years, Shari has served our organization in many roles – as a nurse, a community health leader, a clinic leader, an Incident Command leader during the COVID crisis, and, for the past 3 years, as the Chief Operations Officer at Clearwater Valley Health.
Born in Moscow, ID, Shari currently lives in Nezperce, ID, with her husband Dave. She attended Lewis Clark State College in Lewiston, ID, earning an Associate Degree of Nursing in 1987. Shari received the "Big Shot" award from the Idaho Immunization Program.
She currently serves on the Idaho Region II Behavioral Health Board and the AgriSafe Women's Advisory Council. Professionally, Shari has a varied history of rural health nursing experience including inpatient medical/surgical nursing, labor and delivery, emergency room, and family practice clinic nursing. Most recently, she was the Director of Population Health, and currently is the Chief Operating/Nursing Officer for Clearwater Valley Health.
Shari is pursuing her Master of Science in Nursing (MSN) Degree in Leadership and Management at the University of Mary with an anticipated graduation date of August 2023. In her spare time, Shari enjoys spending time with her family, volunteering in her community as an EMT and volunteering with the Progressive Agriculture Foundation in their Safety Day program.
We are honored to announce that Shari will be receiving her Masters of Nursing from the University of Mary, with a perfect 4.0 GPA, and has been invited to speak at their "hooding" ceremony this May. This is an outstanding achievement, and Shari's commitment to excellence in all that she does is once again clearly demonstrated. We are so happy for her, and incredibly proud to have her as a leader in our organization.
Please join us in recognizing Shari and wishing her congratulations on this exceptional accomplishment.