St. Mary's Health & Clearwater Valley Health Family Birth Centers
Having a baby is a time filled with joy and a time for celebration. When preparing for a baby, the choice of where to give birth can be overwhelming. You want to be as comfortable and relaxed as possible, while also assuring the best care for you and your new addition to the family.
Our family birth centers allow you and your newborn to be in a warm, compassionate, and safe setting, while still being able to remain close to home. Our birth centers provide a separate labor and delivery room, away from the hustle and bustle of the rest of the hospital, which offers a comforting, welcoming place for you to give birth and receive the medical support you and your baby need.
We also have an array of birth and laboring support choices from unmedicated options to epidurals and our doctors have extensive training in Cesarean deliveries, should you need one. After birth, we are dedicated to keeping your baby in the room with you, unless they need extra medical support, and giving you peace of mind, no matter what your family needs.
One of the best things about choosing to deliver with us is that, in most cases, you will deliver with the doctor you began your OB care with; and, once you leave the hospital, you and your baby can continue your care with the very same physician. Our doctors and staff take great pride in being there for their expectant mothers before, during, and long after your baby arrives. Our unique ability to provide years of continuous care for you and your family is what makes choosing to deliver with us a great way to welcome your baby…because all of our babies are special deliveries!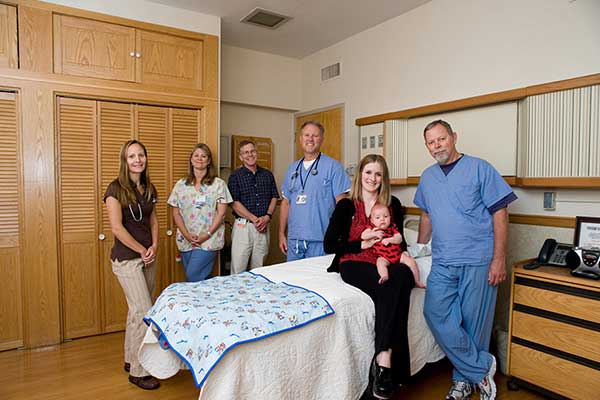 To help make your stay with us one of the most memorable we offer:

Family practice doctors with extensive training in Cesarean Delivery
Trained, caring OB nursing staff in our hospital and clinics
Referrals for high risk pregnancies and local access to air ambulance for mom & baby
Ultrasounds available at our Orofino, Cottonwood, and Kamiah locations
Certified Registered Nurse Anesthetists available for pain management
Rooming in & nursery services and in-house educational programs
Newborn hearing screening and eye exams
Complimentary SleepSack®Swaddle for your baby's safety and comfort
Follow up well-child care in our clinics and close to your home