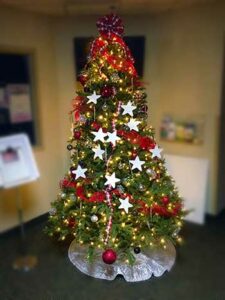 The Clearwater Valley Hospital and Clinics Foundation Emergency Fund Wishing Tree went up November 11th in the Clearwater Valley Hospital Outpatient waiting room at 301 Cedar. The Wishing Tree is a community sponsored charity run by the CVHC Foundation Emergency Fund Committee. The Wishing Tree is a non- profit charity event that helps local children ages 12 and under (no teens) within School District 171 receive Christmas gifts that wouldn't be possible otherwise.
Sign-up sheets are available at both the Outpatient Clinic front desk and the front desk at the Orofino Health Center or parents can call CVHC at 476-8035. Wishing Tree organizers will obtain the child's wants and needs, clothing size, age and sex. It is important to have this info before calling so accurate info can be put on the star. Once a star is taken the information on it can't be changed. Please leave a phone number where the parent or guardian can be reached when all gifts for that family come in.
Custodial parents or guardians can sign up any eligible child for a star until December 9th.   This allows time for gifts to be purchased or supplemented. A $45.00 limit is placed on the requests (no Nintendo, Xbox or extravagant requests are allowed). There is, however, no limit on how much community members can spend on the gifts they purchase for the wishing tree.
"We rely on CVHC employees and members of our community to come in and get the stars, shop for the gifts and return the wrapped or bagged gifts to us by December 16th. We ask that shoppers write on the back of the star what was given and use the star as a gift tag on the presents," says Foundation Emergency Fund committee member, Iola Plank.
"We love for people to take stars but if they can't shop for them, checks can be made out to CVHC Foundation Wishing Tree," says Plank. "We do rely on cash donations for the purchase of gift bags, tissue etc. and also to supplement shopping. Many times one child in the family is lavished with gifts and these funds go to "even out" the wants and needs for the remaining children in the family. Unfortunately we also use these funds to purchase for stars that were not taken or never returned. We ask that if you take a star, you sign it out so we can keep track of families. The sign out sheet is in the Outpatient Clinic by the tree. If you take a star and cannot provide for it, please return it to the tree, no questions asked."
"The Wishing Tree averages 100 or more children during the holiday season and we find that with the unstable economic times this number seems to continue to rise.  Every star is a child in need. The CVHC Foundation Emergency Fund Committee thanks you for your support at this special time of year!" says Plank.