Help Make Masks for St. Mary's & Clearwater Valley Hospitals and Clinics
Due to the COVID-19 Pandemic there is a nationwide shortage for masks and other personal protective equipment (gowns, gloves, face shields/glasses). We are asking our community to help us by making masks and delivering to one of our 3 Drop Off Locations:
Mondays and Wednesdays:
Orofino Health Center Parking Lot – 1:00 pm – 2:00 pm
St. Mary's Hospital Parking Lot – 1:00 pm – 2:00 pm
SMH Kamiah Clinic Parking Lot – 1:00 pm – 2:00 pm
We may need different types of masks/gowns in the coming weeks. If you would like to add your name to our seamstress list to get requests directly, please call Kim Johnson at (208) 962-2100 or Ashley Steinbruecker at (208) 476-8033.
How to make a face mask:
What you will need:
Cotton fabric, tight weave like quilters cotton two 9 inch x6 inch pieces.
Notes:
We prefer light-colored fabric if possible to show soiling
We want two layers of tightly woven cotton, no flannel
Please prewash/preshrink fabric as it will be going through commercial wash/dry
Rope elastic, beading cord elastic will work (you may also use 1/8" flat elastic)
Cut the elastic 7 inches long and tie a knot at each end.  Don't knot the flat elastic.
*See below if you can't find elastic.
Put right sides of cotton fabric together,
Starting at the center of bottom edge sew to the first corner, stop. Sew the elastic with the knot out in the corner. A few stitches forward and back will hold this.
Sew to the next corner, stop, and bring the other end of that same elastic to the corner and sew a few stitches forward and back.
Now sew across the top of the mask to the next corner. Again put an elastic with the knot out.
Sew to next corner and sew in the other end of the same elastic.
Sew across the bottom leaving about 1.5-2 inches open. Stop, cut the thread. Turn inside out.
Pin 3 tucks on each side of the mask. Make sure the tucks are the same direction.
Sew around the edge of the mask twice.
Be sure any fabric design is placed horizontally.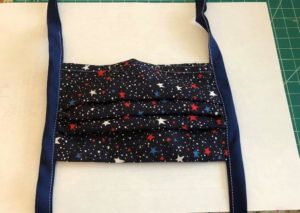 Full tutorial on the Facebook and website  "The Turban Project".  Note they use flannel for a layer, we are asking for cotton for both layers.
*Double wide bias tape (1/2 inch wide) substitute (about 64 inches total, 32 on each side):  Sew the mask sandwich above without elastic. Step 8, sew around the mask once, and then sew bias tape along each side, leave 16 inches above and 13 inches below the mask for ties.  This will mimic a type of surgical mask with ties.
Created 3/20/20 for Kootenai Health with content from The Turban Project.