MOBILE SIMULATION UNIT VISITS ST. MARY'S HEALTH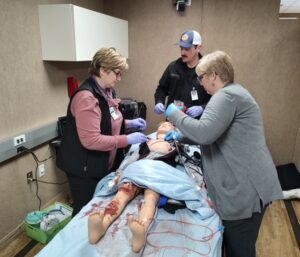 Thanks to a grant provided by Emergency Medical Service for Children of Idaho, a mobile training unit was able to visit St. Mary's Health in Cottonwood on Thursday, March 2.
Best Practices Medicine of Bozeman, MT, has a unit set up that can be pulled by a semi tractor that can provided hands-on, real-time simulations of hospital emergency room and other scenarios.
For the purposes of the grant they were set up for infant and child simulations. The infant simulator can move and act like a real baby and can even be made to act like a baby would if it is having trouble breathing. It can also feel like you are getting a pulse.
The child simulator had a couple of nasty injuries as part of the simulations such as a broken leg where the bone has come through the skin.
Both simulators can be hooked up to monitors and give off lifelike results. They can give blood pressure readings and can even be hooked up intravenously to receive blood, saline or medicine just like a real person.
Loren Deichman is one of the original developers of the set-up and was with his crew of Brandon Woodruff, Liz Parker and Matt Hopkins. They were to go through training with 35 health care professionals from St. Mary's Health of Cottonwood and Clearwater Valley Health of Orofino.
Deichman compared their unit to a flight simulator used during training of pilots. It gives you a chance to practice procedures without the real-life consequences so you'll be better prepared when faced with a real-life situation.
Although the unit was set up for pediatric simulations for this trip, it has nearly limitless capabilities. There are 4 rooms in the unit and each is set up with sound and video. The unit has its own servers and could upload the videos of the procedures to be used for training elsewhere.
This unit is just like having a teaching hospital come to your location and is great from small hospitals like St. Mary's Health and Clearwater Valley Health to give providers the hands-on training they may not get otherwise. Local health care professionals, Tracy Williams of St. Mary's Health and Cata Granger of Clearwater Valley Health, said the crew at the two hospitals are excited for this opportunity.