All of our most recent updates will be located here in order of release.
Posted 05/04/20 12:00 pm
ST. MARY'S REOPENS CRAIGMONT, NEZPERCE & ELK CITY CLINICS!
St. Mary's is pleased to announce that our Craigmont, Nezperce, and Elk City Clinics are open as of today, Monday, May 4th! Nezperce will be open on Tuesdays and Fridays for the next few weeks and Craigmont is resuming normal business hours. Next Tuesday, May 12th, Dr. Brunson and Alyssa will be in Elk City to see patients at our clinic there. If you need to be seen please call us today at 208-962-3267 and we will be happy to get you scheduled!
Posted 04/15/20 12:00 pm
Update to Visitors Policy:
As of right now, our policy is for NO visitors EXCEPT in the following circumstances:
Obstetric patients may have one partner and one birth support person accompany them.

No children under the age of 16                         

Patients who are under the age of 18

May have one visitor, or parents or guardians

For the Nursery:

Birth parent plus one significant other

Patients who are at the end-of-life
We reserve the right to deny access to ANY visitor that appears unhealthy, is displaying symptoms of sickness or is running a fever.
Posted 04/15/20 12:00 pm
Update to Visitors Policy:
As of right now, our policy is for NO visitors EXCEPT in the following circumstances:
Laboring patients may have 1 visitor at a time with them.
End of life patients may have 2 visitors with them.
Patients who are in isolation are not allowed visitors at any time.
Posted 04/07/20 12:00 pm
Clearwater Valley Hospital received their first positive COVID-19 test result, today, 4/7/20. The patient is not a resident of Clearwater County and therefore this result will not appear in our county on the Public Health website. The patient is recovering at home. We have been rigorously preparing for this time and we are working closely with Public Health as they follow the mandated protocol for managing the impact for the patient, our staff and the community. SMH and CVHC are taking all necessary steps in order to ensure the safety of our staff and our patients. If you have any questions or concerns, please contact Idaho Public Health, District 2, or visit them on their website. #smhcvhc #stayhome #stayhealthy
Posted 04/02/20 5:00 pm
IMPORTANT UPDATE FROM ST. MARY'S CLINICS!
Due to the quickly evolving impact of the COVID-19 virus in our area, we are exercising an abundance of caution and closing our St. Mary's Grangeville, Craigmont, and Nezperce locations as of tomorrow, 4/3/20. These closures will allow us to better focus our critical resources, as well as decrease the risk of staff and patient exposure by limiting locations of activity. If you need to be screened or have other medical needs, please contact our Cottonwood Clinic @ 208-962-3267 to discuss options for your care. Please be assured that we are working hard to meet the needs of our patients and communities in the safest and most efficient manner possible. Please stay home and stay healthy!
Posted 04/01/20 8:14 am
St. Mary's Hospital and Clinics received our first confirmed COVID-19 case late in the day on 3/31/20, bringing the confirmed cases in Idaho County to 2. We have been rigorously preparing for this time and we are working closely with Public Health as they follow the mandated protocol for managing the impact for the patient and the community. SMH and CVHC are taking all necessary steps in order to ensure the safety of our staff and our patients. If you have any question or concerns, please contact Idaho Public Health, District 2, or visit them on their website. #smhcvhc #stayhome #stayhealthy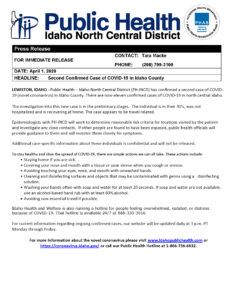 Posted 3/30/20 8:14 pm
Staying "Healthy at Home" is now easier than ever!
Times of crisis spark innovation. Here at St. Mary's & Clearwater Valley Hospitals and Clinics we want to keep all of our patients safe and healthy. As you are aware, we have set up the evaluation of respiratory illness all of our facilities to address the threat of COVID-19, but we also want to help you keep chronic medical conditions under control and continue to help with other health concerns or injuries that may arise.
In order to continue to meet your healthcare needs, SMH & CVHC are starting Telemedicine virtual clinics! This will allow you access to medical care from your home through the use of a HIPPA compliant video conferencing version of Zoom. Your doctor's appointment can be accessed on most any tablet, smart phone or computer with high speed internet access and a camera.
If you have an upcoming appointment and would be interested in changing it to a telemedicine appointment, or you are interested in scheduling a telemedicine appointment, please call and we will be happy to get you scheduled. We are rolling this out a few providers at a time so please be patient as we grow to meet these difficult times.
We are excited to offer this to the community in which we live and serve. Please stay healthy and stay home!
Posted 3/30/20 10:14 am
Increased Safety Measures at St. Mary's & Clearwater Valley Hospitals & Clinics
"As a result of confirmed communal cases in Idaho County and the school district closures, we are taking increased precautions at St. Mary's and Clearwater Valley Hospitals & Clinics to protect staff and patients in regards to COVID-19," says Steve Frei, Director of Ancillary Services, SMH/ CVHC. "Changes that patients may notice include: all staff with patient contact wearing simple procedure masks while at work, all elective surgical procedures are being cancelled, imaging and/or physical therapy or other services will be evaluated by each patient's primary care provider before scheduling and screening of all patients, vendors and visitors upon entry at any of our locations."
There will also be temporary closures of medical clinics in Craigmont, Elk City and Nezperce in an effort to streamline patients to main hospital and clinic locations.
"St. Mary's and Clearwater Valley Hospitals and Clinics are committed to taking excellent care of our community especially during this pandemic," says Dr. Jenny Johnston, CVHC. "Our doctors and nurses have been undergoing extra training to combat Coronavirus (COVID-19). Doctors and nurses participated in simulations of caring for critically ill patients with respiratory illness. We have also been initiating safety measures within our hospital to efficiently and effectively use our personal protective equipment (PPE)."
"Our dedicated staff has been diligently answering phone calls to guide the community on Coronavirus concerns. If you need specific info regarding COVID-19 you can call any of our main lines and be directed to our COVID-19 hotline," explains Johnston. "As mentioned above, you may notice our screening of all persons both at the clinic and at the hospital to help identify possible symptoms and guide care safely and swiftly. We are humbled to continue to care for the community and grateful for the support we have received including donations of cloth masks, other Personal Protective Equipment,  treats from Ronatta's and other local restaurants, as well as words of encouragement."
"We are working closely with public health to prevent any community spread. The most important contribution an individual can make in keeping our community and our health care providers safe is home isolation. We understand that staying home during this period of social distancing is a sacrifice; thank you for doing your part in keeping us all healthy and happy," says Dr. Johnston. "We urge anyone with concerns to reach out to us. We are here for you!"
Posted 3/26/20 2:14 pm
NEW COVID-19 CONFIRMATIONS IN NEZ PERCE COUNTY
Thursday, March 26
LEWISTON, IDAHO –Public Health – Idaho North Central District (PH-INCD) has confirmed three new cases of COVID-19 (novel coronavirus) in Nez Perce County. All of these patients are over the age of 70. This brings the total confirmed cases of COVID-19 in north central Idaho to five. PH-INCD area includes Clearwater, Idaho, Latah, Lewis and Nez Perce Counties.
The investigation into these new cases is in the preliminary stages. The status of these cases are pending investigation.
Epidemiologists with PH-INCD have begun their investigation. If other people are found to have possibly been exposed,
public health officials will provide guidance to them and will monitor them closely for symptoms.
Additional case-specific information about these individuals is confidential and will not be released.
"We are calling on each of you to follow public health guidance to help protect one another and prevent the virus from
spreading. Older adults and people of any age who have serious underlying medical conditions may be at higher risk for
more serious complications from COVID-19," said Carol Moehrle, Director.
These actions include:
• Stay home if you are sick.
• Covering your nose and mouth with a tissue or your sleeve when you cough or sneeze.
• Avoiding touching your eyes, nose, and mouth with unwashed hands.
• Cleaning and disinfecting surfaces and objects that may be contaminated with germs using a disinfecting solution.
• Washing your hands often with soap and water for at least 20 seconds. If soap and water are not available, use an
alcohol-based hand rub with at least 60% alcohol.
It is also currently flu and respiratory illness season, and flu activity is still high and expected to continue for a number of weeks.Public health officials recommend taking everyday preventive actions to stop the spread of the novel coronavirus. In order to slow the spread of the virus, the general public should refer to the updated guidance on mass gatherings.
At SMH/CVHC we understand that traveling in and around our region is a big part of our daily lives. It is critically important, during this time, that everyone avoids ALL NON-ESSENTIAL travel. The best way to stop this virus from having a devastating impact on our community is to heed the Governor's mandate that we stay home and significantly reduce our potential exposure and community spread.
For more information about the novel coronavirus please visit the Idaho Public Health website or call our Public Health Hotline at 1-866-736-6632.
Posted 3/25/20 5:26 pm
Important COVID-19 Update from SMH-CVHC:
We have our first confirmed COVID-19 case in Idaho County. At this time, we don't have much information about the case, but Public Health did release that this patient has NOT been in any of our facilities in our region. The second confirmed case of COVID-19 in Public Health District 2 is a person with a residence in Idaho County but, to the knowledge of the Health Department, has received all of their medical care outside of Idaho County and has been living with family outside of Idaho County. This person hasn't been in any of the hospitals or medical facilities in Latah, Clearwater, Lewis, Nez Perce, or Idaho counties. According to the information the Health Department has at this time, this patient does not present a risk to Idaho County. The patient remains hospitalized outside of Idaho County. Public Health will work to determine reasonable risk criteria for locations visited by this patient and any close contacts of that individual who were possibly exposed.
We want to assure you that we at SMH/CVHC know this is only a matter of time and we have been preparing for this for weeks. Our Incident Command Team and our healthcare providers are working to ensure we continue offering outstanding care to our patients and our communities throughout this time of uncertainty. If you have any questions or concerns please feel free to contact us. If you'd like more information about confirmed COVID-19 cases, please contact the North Idaho Public Heath District.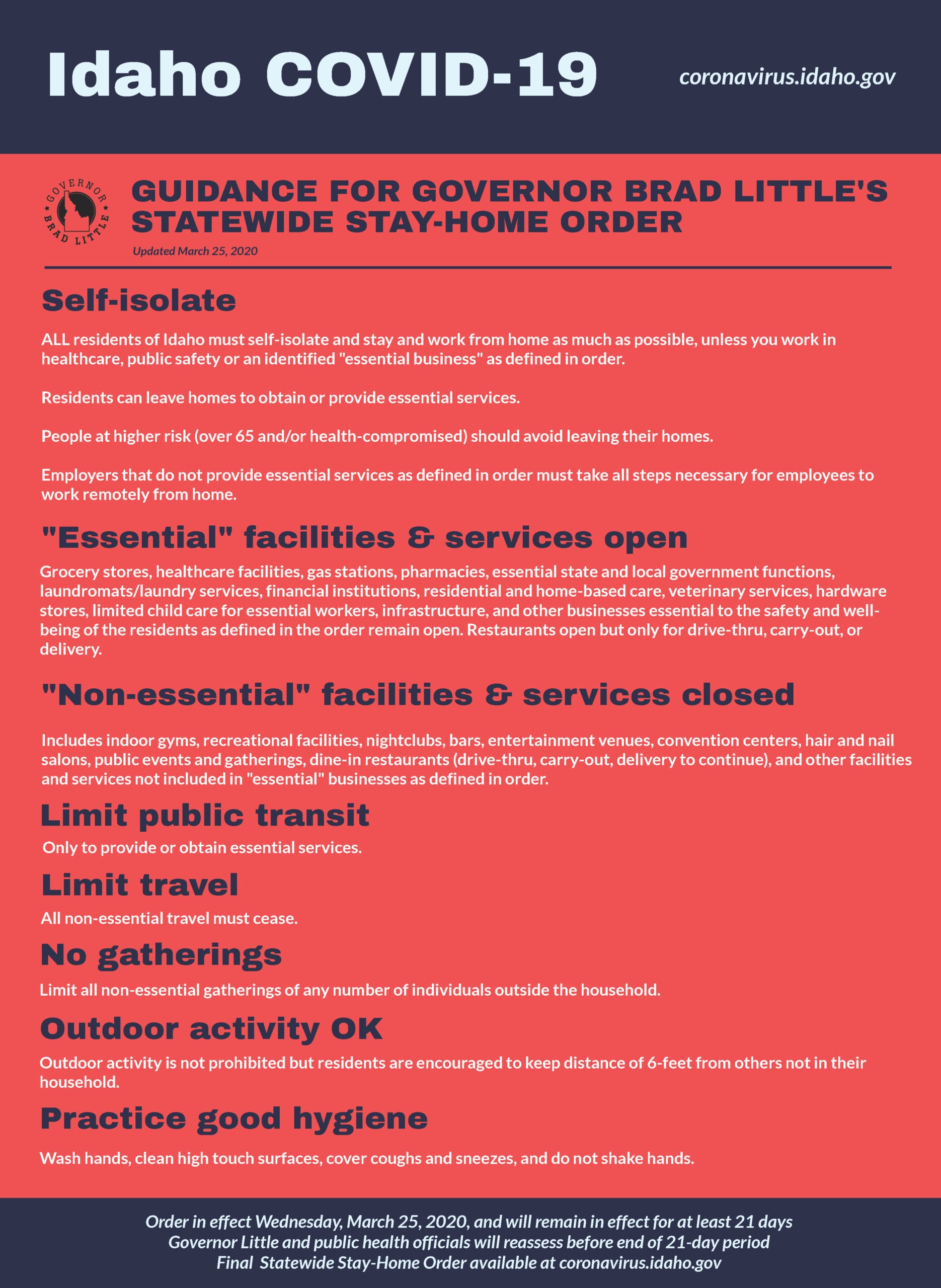 Posted 03/23/20 4:44 PM
LET'S TALK ABOUT OUR KIDS & CORONAVIRUS.
With no confirmed cases of COVID-19 in our area at this time, it might be easy to take all of the recommendations and preparations as an "overreaction", or as something that won't make its way to us with any real consequences. With the closure of all area schools, it may feel more like an extended spring break, instead of the very serious quarantine situation it is, and must be.
If you were out and about this weekend, and let's face it, far too many of us were, you likely saw groups of kids running around the neighborhoods, playing in the parks, and even shopping in our local stores. Perhaps you have heard statistics saying that this virus isn't hitting our youth very hard, or think that they are somehow immune. The truth is, they are not.
Take the young 12 year old girl in Atlanta, currently fighting for her life. She had NO underlying health conditions and came down with a fever that rapidly escalated. In Texas, a toddler has been diagnosed with it and they are seeing a sharp increase in the virus in kids under 18. While adults still make up the majority of the confirmed cases, we should in no way make the assumption that our kids are "immune" or "safe", and that means taking all of the precautions necessary, but not necessarily "fun", that we are being given. Additionally, while our children may not be showing symptoms of being sick, we all know kids are "germ factories" and can make it even easier for the virus to travel and spread to our most vulnerable residents, including other children.
So what can you do?
Keep your family home and away from others as much as possible.
Avoid anyone who is sick, or shows symptoms of being sick. People are contagious before symptoms appear so avoid any gatherings and busy places until the outbreak is declared "controlled".
Try to stay at least 6 feet away from other people. This applies to kids, friends, relatives, grocery store lines, etc.
Do not touch your eyes, nose, or mouth.
Wash your hands frequently and properly. (20 seconds with soap and water, or use hand sanitizer with at least 60% alcohol) and TEACH YOUR KIDS TO DO THE SAME.
Use a household cleaner or wipe to clean and disinfect surfaces and objects that people touch a lot.
Follow the recommendations of your local health care professionals!
The only way that our local healthcare facilities are going to be able to have a chance to effectively manage the impact of this virus is if each one of us does everything in our power, right now, to slow the spread…and that includes our kids, too!
Posted 03/23/12:09 PM
Help Make Masks for St. Mary's & Clearwater Valley Hospitals and Clinics!!
Due to the COVID-19 Pandemic there is a nationwide shortage for masks and other personal protective equipment (gowns, gloves, face shields/glasses). We are asking our community to help us by making masks and delivering to one of our 3 Drop Off Locations.
Mondays and Wednesdays:
* Orofino Health Center Parking Lot – 1:00 pm – 2:00 pm
* St. Mary's Hospital Parking Lot – 1:00 pm – 2:00 pm
* SMH Kamiah Clinic Parking Lot – 1:00 pm – 2:00 pm
We may need different types of masks/gowns in the coming weeks. If you would like to add your name to our seamstress list to get requests directly, please call Kim Johnson at (208) 962-2100 or Ashley Steinbruecker at (208) 476-8033.
How to make a face mask:
What you will need:
• Cotton fabric, tight weave like quilters cotton two 9 inch x6 inch pieces.
• Notes:
• We prefer light-colored fabric if possible to show soiling
• We want two layers of tightly woven cotton, no flannel
• Please prewash/preshrink fabric as it will be going through commercial wash/dry
• Rope elastic, beading cord elastic will work (you may also use 1/8" flat elastic)
Cut the elastic 7 inches long and tie a knot at each end. Don't knot the flat elastic.
*See below if you can't find elastic.
1. Put right sides of cotton fabric together,
2. Starting at the center of bottom edge sew to the first corner, stop. Sew the elastic with the knot out in the corner. A few stitches forward and back will hold this.
3. Sew to the next corner, stop, and bring the other end of that same elastic to the corner and sew a few stitches forward and back.
4. Now sew across the top of the mask to the next corner. Again put an elastic with the knot out.
5. Sew to next corner and sew in the other end of the same elastic.
6. Sew across the bottom leaving about 1.5-2 inches open. Stop, cut the thread. Turn inside out.
7. Pin 3 tucks on each side of the mask. Make sure the tucks are the same direction.
8. Sew around the edge of the mask twice.
Be sure any fabric design is placed horizontally.
Full tutorial here:
https://www.youtube.com/watch?v=SP3AQtoPIzs&t=51s
and on the Facebook and website "The Turban Project".
(Note they use flannel for a layer, we are asking for COTTON FOR BOTH LAYERS.)
*Double wide bias tape (1/2 inch wide) substitute (about 64 inches total, 32 on each side): Sew the mask sandwich above without elastic. Step 8, sew around the mask once, and then sew bias tape along each side, leave 16 inches above and 13 inches below the mask for ties. This will mimic a type of surgical mask with ties.
Created 3/20/20 for Kootenai Health with content from The Turban Project.