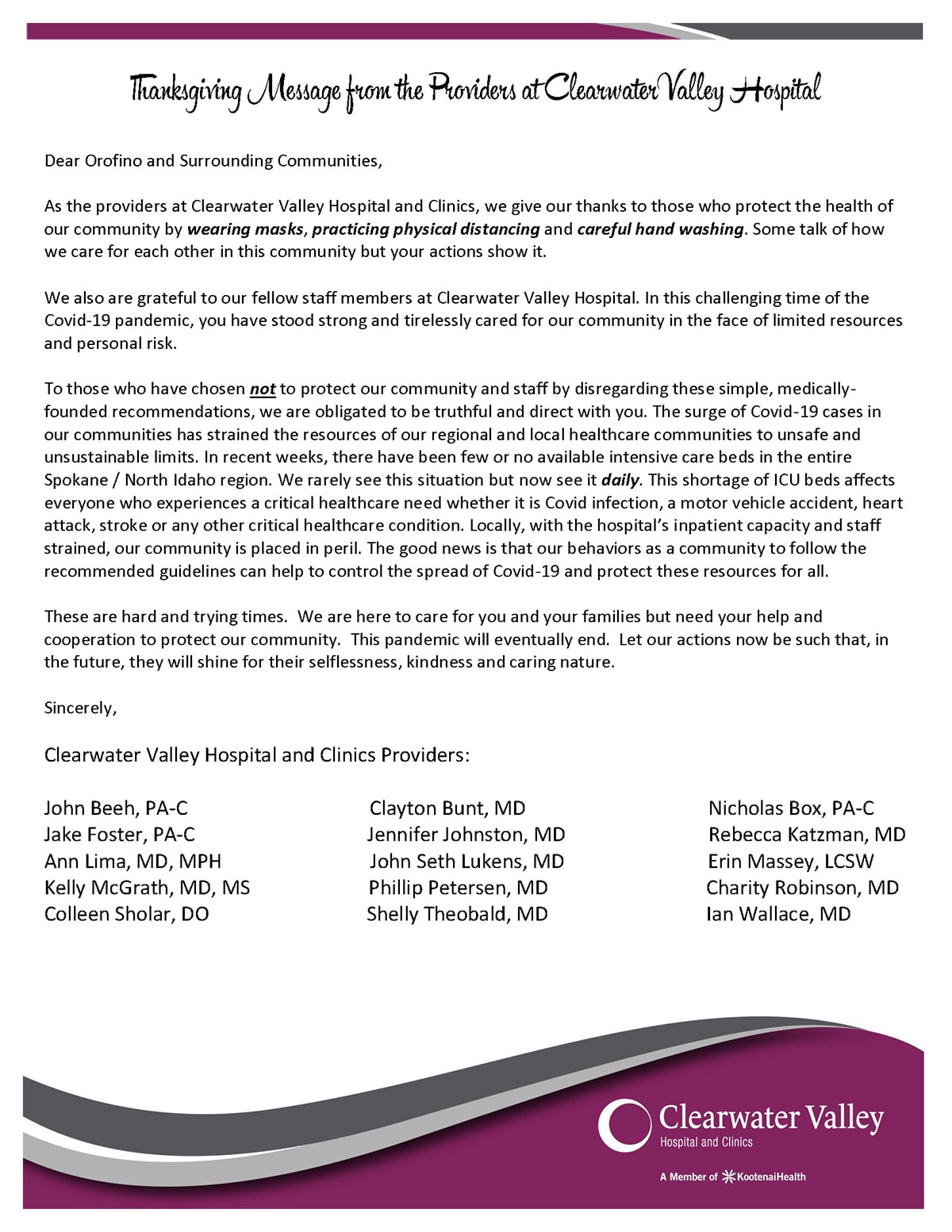 Dear Orofino and Surrounding Communities,
As the providers at Clearwater Valley Hospital and Clinics, we give our thanks to those who protect the health of our community by wearing masks, practicing physical distancing and careful hand washing. Some talk of how we care for each other in this community but your actions show it.
We also are grateful to our fellow staff members at Clearwater Valley Hospital. In this challenging time of the Covid-19 pandemic, you have stood strong and tirelessly cared for our community in the face of limited resources and personal risk.
To those who have chosen not to protect our community and staff by disregarding these simple, medically-founded recommendations, we are obligated to be truthful and direct with you. The surge of Covid-19 cases in our communities has strained the resources of our regional and local healthcare communities to unsafe and unsustainable limits. In recent weeks, there have been few or no available intensive care beds in the entire Spokane / North Idaho region. We rarely see this situation but now see it daily. This shortage of ICU beds affects everyone who experiences a critical healthcare need whether it is Covid infection, a motor vehicle accident, heart attack, stroke or any other critical healthcare condition. Locally, with the hospital's inpatient capacity and staff strained, our community is placed in peril. The good news is that our behaviors as a community to follow the recommended guidelines can help to control the spread of Covid-19 and protect these resources for all.
These are hard and trying times. We are here to care for you and your families but need your help and cooperation to protect our community. This pandemic will eventually end. Let our actions now be such that, in the future, they will shine for their selflessness, kindness and caring nature.
Sincerely,
Clearwater Valley Hospital and Clinics Providers:
John Beeh, PA-C Clayton Bunt, MD Nicholas Box, PA-C
Jake Foster, PA-C Jennifer Johnston, MD Rebecca Katzman, MD
Ann Lima, MD, MPH John Seth Lukens, MD Erin Massey, LCSW
Kelly McGrath, MD, MS Phillip Petersen, MD Charity Robinson, MD
Colleen Sholar, DO Shelly Theobald, MD Ian Wallace, MD